Club History
Southam United was founded in 1905 following the amalgamation of two village teams. Southam United or "Saints" as they are known has a long and distinguished history. From 1947 to 1956 the club won most of the titles in the then prestigious Coventry and North Warwickshire League culminating in the Coventry Evening Telegraph Cup.
Saints moved into the Midland Combination in 1980/81 and immediately won the Division 3 title and completed the double by winning the Vase Final with a 3-1 victory over Kingsbury United. When the League was reorganised in 1983/84, United were invited into the Premier Division but after struggling for several seasons they were downgraded to Division 1 when it was discovered that their pitch was now too short owing to the construction of a bowling green next to it. It took until 1995/96 for United to get back into Premier Division football. In 1997/98 Saints enjoyed their most successful season in the Midland Combination finishing as Premier Division Runners Up and winning the Birmingham County FA Vase with a convincing 3-0 victory over Shirley Town.
All time leading goalscorer (over 1,000 goals) and record appearance holder is Bob Hancocks who served the Club loyally in virtually every capacity. In 2002 Bob and his wife Anne received a presentation from the Club to mark their over 50 years of loyal service to Southam United and their contributions to the game were finally recognised by the FA Long Service Award in June 2012.
In 2001 the Club merged with Southam Town FC, a progressive junior club formed in 1972 which, amongst other things, has pioneered Ladies and Girls football in Warwickshire. Long-term development plans have now been put into place to strengthen the football base in Southam both on and off the field.
The Club is an FA Charter Standard Community Club and it's Banbury Road headquarters currently extends to some 15 acres in all. However, this is in process of being increased with a major development project including a new "stadium" pitch and purpose built multi-changing room and clubhouse / community hub under nearing completion.
For season 2018/19 the Club's range of teams runs from the Mini Soccer School (boys and girls of 5 years upwards) being introduced to the game in a fun and safe environment through the junior age groups up to the Under 15's with some 250 players participating in coaching sessions and games throughout the season.
First Team results from 1998 to 2004 were largely disappointing. A sixth placed MidComb Premier Division finish in 2004/05 augured well for the future but could not be improved upon in season 2005/06 thanks to inconsistent league form. There was, however, some comparative success in Cup competitions, including an appearance in the first ever Cup Final at the Ricoh Arena, when Saints finished as Runners Up to Coundon Court in The Coventry Charity Cup.
Cup success was achieved in 2008/09 as the Club lifted the BCFA Midweek Floodlit Challenge Cup with a convincing 3 – 1 victory over Darlaston Town and again in 2010/11 with victory in the Telegraph Challenge Cup Final at The Ricoh Arena. Runners Up spot in the Premier Division was achieved in 2011/12 when the team fell away with the finishing line in sight.
In both 2012/13 and 2013/14 the Club were runners up in the BCFA Midweek Floodlit Cup; and in 2014/15 were beaten finalists in the Les James Cup at Walsall's Banks's Stadium and the Coventry Charity Cup at Coventry City's Ricoh Arena.
With the recent appointment of a new Licenced Coach & Northampton Town Academy Coach as our new Director of Football and ex 1st team player Richard Kay as First Team Manager including his new coaching team, the Club is moving forward with ambitious plans to improve and develop on the footballing front across the Senior and Junior sections, whilst the new ground completion and upcoming formal launch of our Community Foundation will see a rapid increase in our interaction with the wider community in and around Southam. The new facilities will be known as "Bobby Hancocks Park" in memory of Mr Southam United.
Our Core Values
•Safeguarding Children at the centre of everything we do.
•Welcoming and caring manner based on mutual RESPECT.
•Provide all members of the local community with the opportunity to access quality sport provision whatever their age, gender or ethnicity.
•To be nationally recognised as a Club and Community Foundation rooted in the Local Community.
•Working within education to develop physical literacy in children.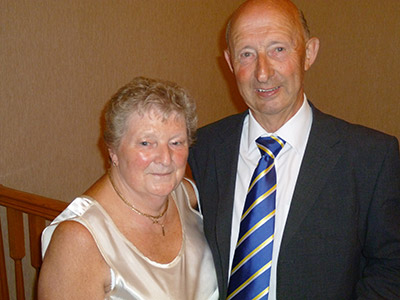 Bob and Anne Hancocks receiving their FA Long Service Award at Midland Combination Awards Dinner 2012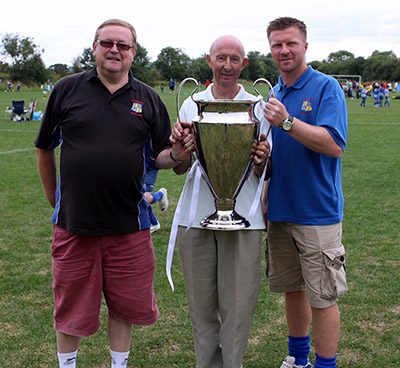 Bobby Hancocks, Chairman Charles Hill and Lee Constable holding aloft The Champions League trophy at our 2014 Football Festival